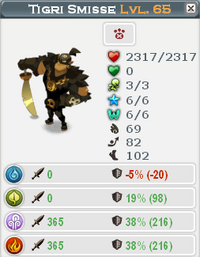 Tigri Smisse is a challenge on the Kelba Island.
Challenge
Find and defeat Tigri Smisse in under 15:00.
Description
"The vessels in Smisse's fleet and their Rogue crews particularly like prowling our shores, eagerly searching for an easy target to board and raid. But from time to time, Captain Tigri Smisse feels a bit too confident and comes to attack merchants on solid ground. Find and finish off Tigri Smisse before he ravages the Kelba market."
Rewards
Enemies
Community content is available under
CC-BY-SA
unless otherwise noted.