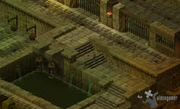 Each Nation has a Prison, where outlawed players may be sent.
To become an Outlaw in your Nation or another Nation, you must displease a Clan Member (don't follow his/her wishes) or attack and kill other players. Doing this will reduce your Citizenship Points.
If caught and killed by another player, you are sent to that Nation's respective Prison, where you are forced to mine ore to repay your debts.
You may also turn yourself in at each nations prison to clear your negative Citizenship Points for that nation, when you turn yourself in your negative Citizenship Points will clear over time. Once they reach 0 the cell door will unlock and you may exit.
Locations
Community content is available under
CC-BY-SA
unless otherwise noted.