Dathura (Server) is a secondary international server, available to everyone no matter what your location is. The official language is French, though there are many players speaking other languages. For an English-speaking international server, see Remington.
Description
"Legend has it that Dathura was created by the god Sadida himself out of a few rags and a heart of Ogrines. Aguabrial the water dragon was the first to fall for her. The second was Ogrest, that mighty hulk created by Otomai the alchemist. The ogre was prepared to do anything for the lovely doll, anything! Even if it meant gathering the six Dofus to allow her to become the human she'd always dreamt of being. The great eggs' powers soon ran riot, and Dathura disappeared, for reasons unknown. Alone and grieving, the ogre lost his mind..."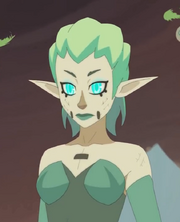 History
Dathura was launched on December 20, 2012[1]. It is believed it was necessary because the population of Aerafal was getting out of hand. It is also the first server which allows players from all of the communities, except the North American one. Not only does it serve as a secondary French server, but it also lets the players from smaller communities (such as German) play with a bigger player base, if they can handle the French language.
References
Community content is available under
CC-BY-SA
unless otherwise noted.