Bread Oven
Lvl. 1
ID9844


"Once added to the Crafting Room of your Haven Bag or to your Haven World, you can use this equipment to make level 0 to 80 recipes for the Baker profession."
Bread Oven is the workshop used by bakers to cook their bakeries.. This workshop can also be placed in a haven bag to bake bread.
Obtaining
Crafting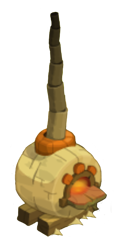 Locations
They can be found in:
Amakna
Astrub
Bonta
Brakmar
Sufokia
Community content is available under
CC-BY-SA
unless otherwise noted.