Bonta is a Nation that a player can join, once they reach the appropriate level.
Identity

Despite Ogrest's Chaos, Bonta, often referred to as the Divine City, is still the pinnacle of order and justice.

Our forests are the thickest in the World of Twelve, and our wood is the finest. But the world is in conflict, fighting for control of the free territories. We can't let the other nations extend their hold any further. Bonta's Armourers' know-how will help you defend our great city once more.

Bonta: Pining for the company of kindred spirits? Visit the archipelago of Bonta, where adventurers from all over can branch out and plan the best route to conquering their next adversary. Come and strengthen the ranks of the white city!

Master Hoot, Official Archivist.
Symbol: A large tree
Colors: Blue and White
Territories
| Name | Clan Member | Monsters in the area |
| --- | --- | --- |
| Bonta Headquarters | Master Hoot | N/A |
| Bonta Ruins | Jonk Lees | Piwi, Rat, Bow Meow, Hoodlum |
| Monty's Prairie | Monty Bello | Gobball, Hoodlum |
| Gnarled Barklee's Forest | Gnarled Barklee | Tofu, Blibli, Hoodlum |
| 5th Bond Avenue | Nina Richa | N/A |
| Cania Plains | Justice Knight | Tofu, Moogrr, Prespic, Hoodlum? |
| Kara | Baal Stroud | Gobball, Blibli, Hoodlum |
| Cania Swamps | Crocoburio | Moskito, Boo |
| Arms Way | Clout | N/A |
| Pancake Bridge | Macrobio | N/A |
| Thicket of Yurbut | Yew-Teeny | Treechnid, Arachnee |
| Wild Prairie | None | Wild Gobball |
Map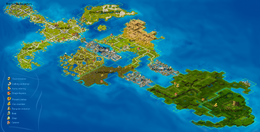 History
In Dofus, Bonta was one of two opposing PvP Factions, along with Brakmar. Players could choose to stay as unaligned Neutral.
Community content is available under
CC-BY-SA
unless otherwise noted.